Have you ever noticed that all of the skinny people of the world have concave armpits? Seriously, look around (especially at the actresses on
tv
) and you'll see. Their armpits dent in so much that they could probably hide stuff in there. "No need for a purse tonight. I've got my id, phone and lipstick in my armpit." OK, so maybe this is something that everyone but me already knows, but I have only very recently- like in the past 18 minutes- decided that the armpit just may be the best measure of skinny. And that's what I'm gonna go by...for now at least.
So, last night was my weekly weigh-in and it went better than expected! I lost another 3
pointsomething
lbs, bringing my grand total to 19.6. The Husband has now lost 22 lbs too and he will get really upset if I forget to mention it on here, so now you know. But, although I am thrilled with having lost almost 20
lbss
my armpits don't yet cave like I would like.
Anyway, after we went to the meeting, we went down to the river and The Husband rode 10 miles on his bike and I ran 4. I would like to do another 1/2 marathon soon and according to my training schedule I needed to run 3. I chose to do 4 anyway because I am an overachiever like that. Actually, my new
Garmin
gives me magical running powers. More on those to come....someday.
Then, on the way home I made him take me to McDonald's because heck, I love their food. I love any fast food. And since you can eat anything on Weight Watchers (as long as you count it), I opted for one of these...
and one of these......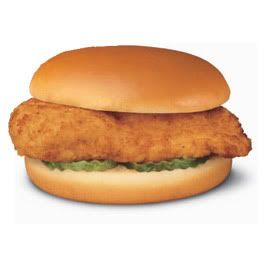 and I sat out in the car and ate them while The Husband went in the grocery to make himself a salad. Who's the overachiever now?
Well, the fast-food turned out to be a bust. The sandwich was too peppery and the fries way too salty. So, I ate about half of each and then made The Husband sit in the car while I went in and made the world's smallest salad. And, when I got back...the rest of my McDonald's was GONE.
Moral of the story: Don't expect your husband to not eat your McDonald's food even if it is gross. AND concave = skinny.
Peace out.